Home > EOO PRODUCTION >
Harvest
Harvest
Deciding when to harvest is a critical decision for olive oil makers. Earlier-harvested olives tend to yield a greener, more bitter oil that is rich in polyphenols (a group of antioxidants). Later-harvested, riper olives usually create mild, buttery oil, with much lower polyphenol levels. At our farms the harvesting takes place from the middle of November to the end of February by ways of hand-picking and tree-shaking machinery; the oil is then extracted in the Eagle Olive Oil state-of –the-art mill, at low temperatures to keep all the aromas and nutritional values in tact. The best olive oil is pressed soon after harvesting ideally within 24 hours.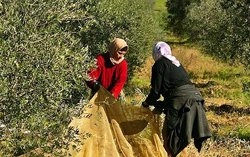 Early harvested olive oil is pressed during the beginning of the harvest season when the olives are still green or have turned a light purple. A new tree takes about six to seven years to establish, twice as long as a vine, but can produce for hundreds of years. At Testour the average age of the trees is between 30 to 80 years old. The oil pressed from green olives has intense flavor, and is naturally higher in antioxidants.
Arbequina olives are grown in our farm in Tebourba. These types of olives are small, brown olives. Arbequina olives have one of the highest concentrations of oil and are therefore mostly used for olive oil production. Harvesting is easy since the trees are typically low to the ground and allow for easy hand picking. Arbequina extra virgin olive oil has a high fruitiness, balanced pungency, and a very pleasant clean taste. Our Arbequina olives yield what is considered among the most healthiest of olive oils.
Chetoui is the second major variety of olive oil cultivated in our farm in Testour. Chetoui is presented in approximately 95% in all the northern region of Tunisia. This variety adapts particularly well to the northern coastal plains, where the average rainfall is never less than 400mm. This is the case at our Testour farm. The Chetoui olives are usually larger than other types; they produce fruity oil with a strong smell of almonds, together with slightly bitter and spicy flavor, varying from medium to powerful. The depth of the smell lowers with the maturity of the olives, but it is always there nonetheless.