Home > EOO SECRETS >
Appetizing Ideas
Appetizing Ideas
Appetizing Ideas :
Historically, Tunisian meals have shown to incorporate various traditional cuisines from the surrounding areas of the Mediterranean, North Africa, and many Arab countries. For this reason, it is no surprise that Tunisian recipes incorporate many of these traditions including couscous and generous amounts of seasonings and spices. It goes without saying that it is almost guaranteed that any single Tunisian entree will be prepared with peppers, since the Tunisians enjoy a rather spicy meal. Also, Tunisian meals are considered social events, so expect a typical collection of dinner recipes to contain several appetizers, a selection of main dishes, and a vast array of desserts.When you use Eagle Olive Oil products, you are cooking with the best extra virgin olive oil. Here are a few recipes to get you started.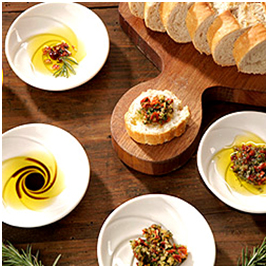 Appetizers :
Tunisian appetizers usually come in all tastes and flavors. In any form, however, they are usually fairly light to the palette, typically incorporating olives (and olive oil), fresh vegetables, breads, and sauces. Also, because meals are treated as a social event, there is always a good selection of appetizers from which to choose. And of course, no Tunisian food is complete without a generous helping of spicy hot Harissa!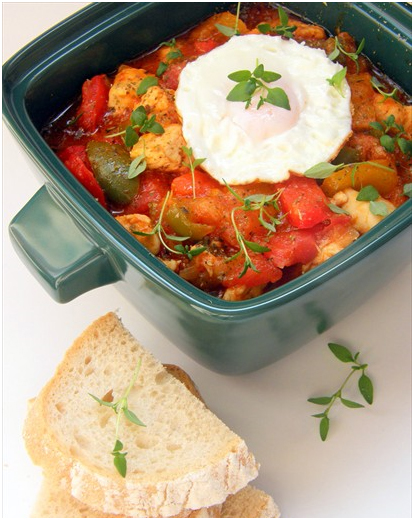 Chackchouka
Ingredients :
- 3 green peppers,
- 2 onions
- 8 small washed potatoes
- 6 Eggs
- Extra Virgin Olive Oil (EOO preferably)
- Salt & Pepper
- Cayenne Pepper
Directions :
Cut the green peppers in half and remove the seeds. Cut into thin strips.
Peel the onions and slice them. Cut tomatoes in half.
Heat the oil in a pan add the onions and the green peppers.
Season with salt, pepper, cayenne pepper and cook over low heat.
Add the tomatoes and cook until the green peppers are tender.
Break the eggs in a bowl and beat.
Pour the eggs into a pan,
-As soon as they are scrambled, your dish is ready. Serve hot.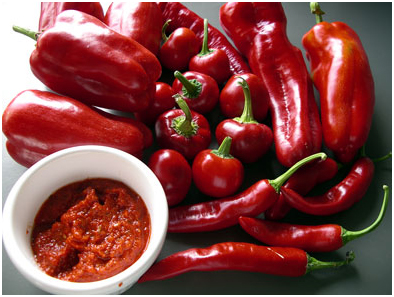 Harissa Sauce
Harissa is the most important condiment used in Tunisian cooking, and, in fact, you need to make this recipe and keep is in the refrigerator before attempting any other Tunisian recipe
Ingredients :
- 2 ounces mildly hot dried guajillo chile peppers
- 2 ounces mild dried Anaheim chile peppers
- 5 garlic cloves, peeled
- 2 tablespoons water
- 2 tablespoons extra virgin olive oil (EOO preferably)
- ½ teaspoon freshly ground caraway seeds
- ¼ teaspoon freshly ground coriander seeds
- 1½ teaspoons salt
- extra virgin olive oil for topping off
Directions :
1. Soak the chile peppers in tepid water to cover until softened, 45 minutes to 1 hour. Drain and remove the stems and seeds. Place in a blender or food processor with the garlic, water, and olive oil and process until smooth, stopping occasionally to scrape down the sides.
2. Transfer the mixture to a small bowl and stir in the caraway, coriander, and salt. Store in a jar and top off, covering the surface of the paste with a layer of olive oil. Whenever the paste is used, you must always top off with olive oil making sure no paste is exposed to air, otherwise it will spoil.
Tunisian meat dishes are typically made using beef, lamb, poultry, or fish. Usually, fish is consumed in the summer months as part of a lighter meal. It goes without saying, of course, that great care is taken in the seasoning and preparation of the meats. Also, many of these dishes are known to be served alongside of couscous, a national favorite.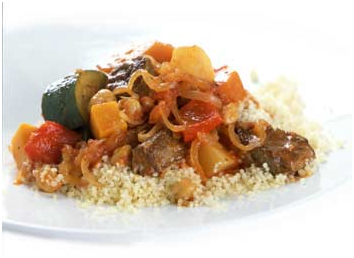 Tunisian Lamb Couscous
Ingredients :
- 900g/2lb Shoulder or leg of Lamb, cubed
- 2 Large Onions, chopped
- 4 tbsp Olive Oil (EOO preferably)
- 2 tbsp Tomato Paste
- 2 teasp Harissa (or more to taste)
- 3 Garlic Cloves, crushed
- Salt
- 2 small Capsicums (sweet pepper), chopped
- 2 Turnips, chopped
- 4 Carrots, chopped
- 400g/14oz Potatoes, diced
To serve :
- 400g/14oz Couscous, cooked
- Freshly chopped Parsley
- 2 Lemons, cut into wedges
Instructions :
1. Heat the oil in a large saucepan add the lamb and onions and brown on all sides.
2. Add the tomato paste and Harissa and cook for 5 minutes stirring constantly.
3. Add the peppers mixing well then reduce heat and simmer for 15 minutes.
4. Add the remaining vegetables plus enough water to cover by 7.5cm/3 inches and continue to cook for a further 1 hour.
5. Serve over the cooked couscous garnished with the chopped parsley and lemon wedges.
Serves 4-6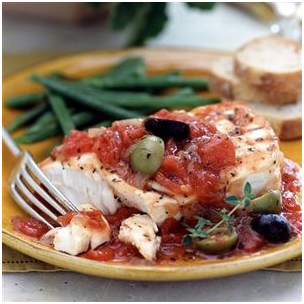 Fish Fillets With Harissa And Black Olive
s
Ingredients :
- 2 Pounds Thick Fish Fillets -- any white fish
- Salt And Pepper -- to taste
- Flour -- for dusting
- Oil -- for frying
- 1 Small Onion -- finely chopped
- 2 Cloves Garlic -- finely chopped
- 1 Cup Tomato Sauce
- 1/2 Teaspoon Harissa
- 1 Medium Bay Leaf
- 1 Cup Pitted Greek Olives
- 1 Lemon Lemon Juice
- Parsley -- chopped for garnish
Directions :
Season fish with salt and pepper. Dust with flour and fry in hot olive oil until golden brown on all sides.
Transfer fish to a side dish. Add onion and garlic to the skillet and cook for a few minutes. Add tomato sauce, harissa, bay leaf and 1/2 cup water. Cook for 10 minutes. Add olives and fish fillets and continue cooking, uncovered, until the fish is tender and the sauce thick. Add lemon juice to taste. Discard the bay leaf. Serve, sprinkled with parsley.
Serves 4