About us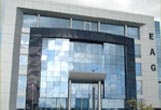 The Eagle Ayed Group was founded in 1974, by Senior Electro-mechanical Engineer Mr. Noureddine Ayed. The first company created by Mr. Ayed was involved in the contracting business for construction of different plants in the oil and Gas sector as well as public works. After a few years this small company was getting recognition not only in Tunisia, but worldwide....
See more
eAgle olive oil specificities
APPRECIATED OVER AGES...
For thousands of years, olive oil has been prominent in all the great civilizations that have prospered in Tunisia. The olive tree was cultivated by the Phoenicians, the Greeks, the Carthaginians, the Romans and the Arabs, in a tradition that has been passed down from father to son ever since.
See more